Better fire protection for rail vehicle through high-temperature insulation
Fire protection for trains and locomotives is a top priority in rail transport. Find out here how the right high-temperature insulation can reduce the risk of fire.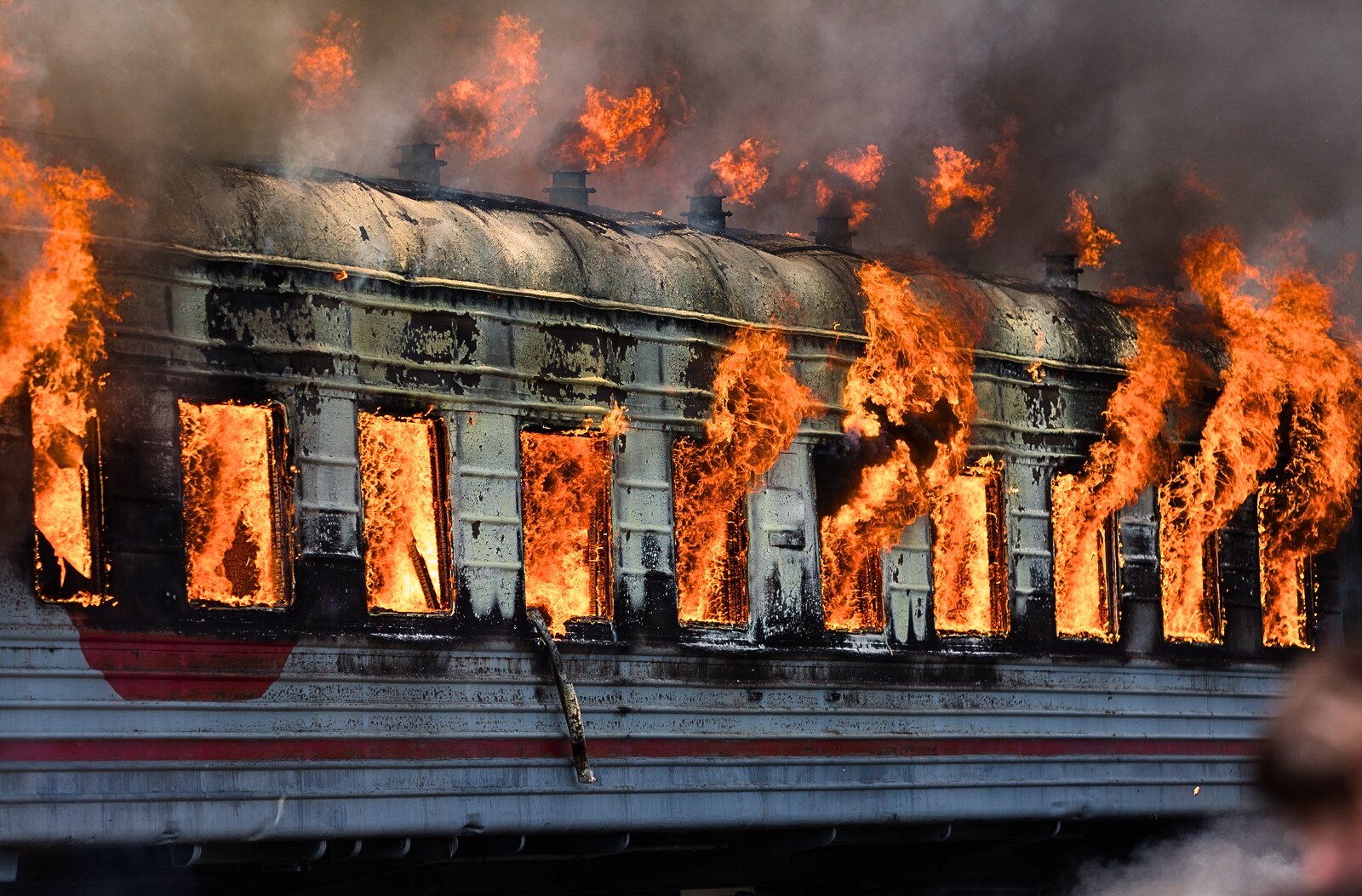 Fire protection of rail vehicles is an important issue that affects not only the safety of passengers, but also the reliability of the vehicles themselves. Don't let the risfk of fire derail you, and take the right safety precautions to improve fire protection and ensure the safety of people and machinery.
Rail vehicles are an essential part of our transport and infrastructure system. This makes it all the more important to take the right safety precautions in order to avoid breakdowns and injuries. Particularly significant: the right fire protection.
Why are rail vehicles with diesel engines at risk of fire?
The term "rail vehicles" refers to a variety of different models, most of which are diesel-powered – from high-speed trains to construction trains and locomotives.
Due to the sophisticated technology and mechanics on board the train, especially with regard to the diesel engine, fire risks also exist in rail vehicles. On the one hand, faults can occur in the electrical system, which often lead to short circuits. On the other hand, trains and locomotives carry easily flammable operating materials. These can leak out due to possible damage to the tank and ignite upon contact with the hot surfaces in the engine compartment, setting the entire vehicle on fire.
To counteract the risk of fire in diesel-powered rail vehicles, there is the EN45545 standard, which contains the regulations for the necessary fire protection.
Fire protection regulations for diesel powered rail vehicles
All requirements and demands for fire protection in rail transport are listed in the fire protection standard EN45545. In particular, EN45545-2: "Fire protection in rail vehicles", published in 2013, presents a set of regulations for fire precautions in rail vehicles that apply throughout Europe.
The focus here is on the materials and technologies to be used, as well as the necessary test procedures to be carried out. Provided that the installed materials comply with EN45545 and meet the requirements, the part of the components is positively fulfilled. But is this always enough to optimize fire protection, or to prevent a fire in the first place?
Fire protection insulation for rail vehicles with diesel engines
Even if a rail vehicle fully complies with the requirements of the EN45545 standard, the optimization of fire protection is not yet complete. After all, it is not uncommon for high surface temperatures of up to 1,000 °C to prevail in the engine compartment of diesel-powered rail vehicles. If, despite all precautions, a leak should occur in the engine compartment, a fire can quickly break out.
To effectively minimize the risk of fire, the surface temperatures must be lowered, and thermal hotspots prevented. This can be achieved with the aid of suitable high-temperature insulation.
Since most fuels and deposits ignite at temperatures as low as 250 °C, tmax high-temperature insulation reduces the surface temperatures of all exposed components to a non-hazardous 220 °C – even down to 60 °C on request with additional contact protection for your personnel.
Application areas for the insulation solutions are within the scope of the exhaust gas turbocharger, exhaust gas manifold, exhaust pipes, and exhaust gas aftertreatment system.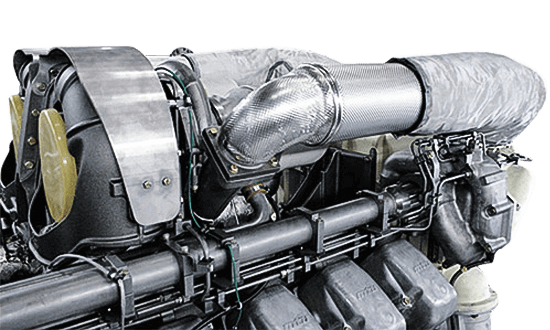 Image: With the combination of the highly effective technologies of our integral insulation and NIROTEX, operators are effectively protected from burn injury risks.
What insulation solutions are available for rail vehicles?
Just as there are different technical requirements and systems in rail vehicles, there are also different insulation solutions. Our engineering know-how, combined with our specialization in developing the optimally tailored insulation solutions based on customer requirements, makes us a pioneer in thermal management through insulation protection.
Depending on the customer's requirements, metallic insulation, foil insulation or textile insulation can be used. In some cases, a combination of all three materials is the perfect solution. Our insulation solutions are as individual as our customers.
Not only do the insulations excel in reducing surface temperatures and optimizing fire protection, but they also meet strict emission standards, sound insulation and create perfect contact protection. These factors, in addition to fire risk minimization, are other important insulation properties that are indispensable in increasing the efficiency of your rail vehicle. Fire safety as a top priority, of course.
Safety is not a question of the year of manufacture: discover RETROFIT
The safety of man and machine has top priority. Even with older rail vehicles. Advanced age of a rail vehicle is no reason for a lack of safety quality.
Through regular maintenance and inspection, thermal risks can be detected and eliminated in time to minimize the risk of fire, even in older rail vehicles. With our RETROFIT solution.

The all-in-one package tmax RETROFIT offers all services, from the determination of requirements to the installation of the newly developed insulation system, from a single source. Including the creation of 3D data on your engines and cooperation with the engine manufacturer, we bring your fire protection up to date.
Protect rail vehicles – improve fire safety
Take safety precautions to improve the fire protection of your trains and locomotives and optimize the safety of people and machinery. Protect your rail vehicle and ensure longevity.
Categories
Temperatures under control.
Discover the world of insulation and how tmax, as a market leader, will also solve your requirements.