Professional toolmaking at tmax
An insight into the more than 25-year development history of pressing tools and in-house toolmaking at tmax.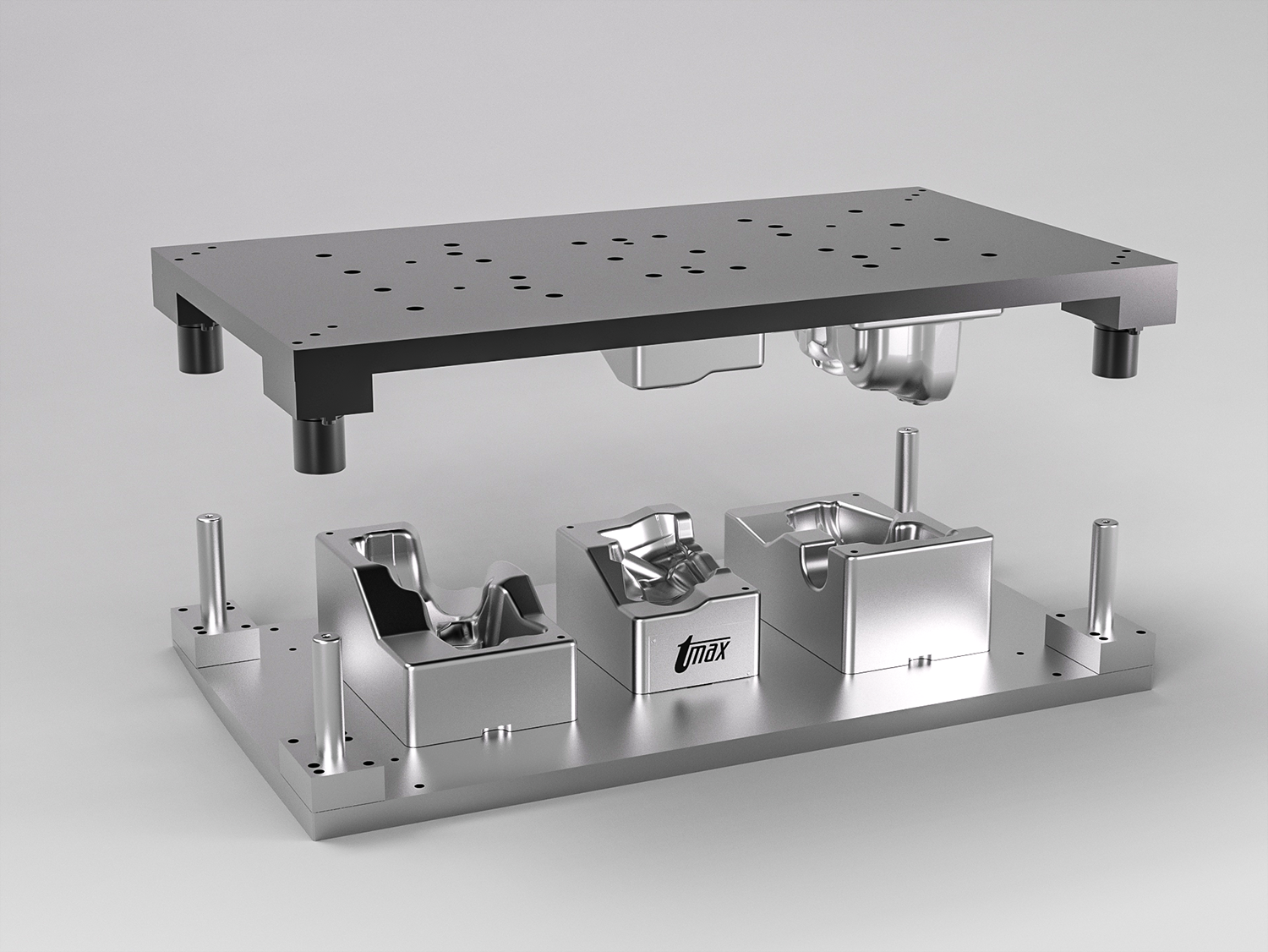 Tmax integral insulation has a jacket made of stainless-steel foils or thin sheets, perfectly adapted to the contours of the objects to be insulated. Additionally embossed structures increase the stiffness and thus enable minimal wall thicknesses of the materials used. Both are made possible by the use of state-of-the-art embossing and forming tools. In this article, we give you an insight into the more than 25-year history of the development of pressing tools at tmax.
Tool making in the past and today
With the demand for precisely fitting and reproducible foil shells, new paths had to be taken in production at tmax in the 1990s because the existing tools and methods of tool making – edging bench, roll bending machine, templates, etc. – were reaching their limits.
They began to manufacture the first pressing tools for it themselves with a 30-ton press – rather weak from today's point of view – and with enthusiasm. A great deal of manual skill was required to create a negative model of the tool without machines and then mold it in a wooden box with casting resin. Some tools are still in use today, after 20 years!
New manufacturing processes
With the beginning of the 2000s, press tools made of cast resin were increasingly replaced by CNC-milled press tools. Since these were manufactured CAD data based, they were not only more precise, but also very reproducible and the effort for their production was significantly lower. For the milling of the press tools, orders were initially placed with tool and diemakers from the region.
At this time, tool wear also became an issue for the first time, which is why pressing tools were increasingly milled from resistant plastic and equipped with wear plates. For the material selection, the company relied on the recommendations of external mold designers.
Pressing tools in transition
From 2010 onwards, tmax's entry into the automotive sector and increasingly stringent exhaust emission regulations led to many new projects and a high demand for integral insulation. With the claim to be able to react quickly to customer requirements, the tool making department was founded in 2011. A first and later on a second CNC milling machine were purchased in 2012. The press tools were manufactured both internally and externally in the years 2011 to 2014. The number of pressing tools quickly increased to over 1000.
From 2016, the number of units of integral insulation increased enormously once again. It quickly became clear – in order to counteract die wear and to produce uncompromisingly good quality from the first to the last foil shell, all pressing dies for the series must be made of steel. For their production, a third CNC milling machine was purchased from 2018.
In recent years, tmax has invested heavily in the expansion of its in house tool making, using both subtractive and additive processes. Today, for example, we use three milling machines to produce precise and accurate punches and dies from high-quality tool steel blocks for the press tools. In addition, masks for the laser devices can be produced from plastic in two 3D printers. Since the shapes of our insulating parts are based on the component shape from our customers, we rely on highly dynamic milling machines from DMG MORI and controls from Heidenhain. Tools made of plastic are now only used for prototypes.Today, tmax relies on its own tool making, only in very rare cases resorting to long-standing partners.
A series tool at tmax no longer has much in common with the tools of 25 years ago. The mold is milled from high-quality tool steel on state-of-the-art milling machines, and special hardening processes and coatings/polishes increase the service life of the molds to several million units with virtually consistent quality from the first shell to the last. "The press tool today is more massive and easier to maintain. The fact is, development continues, and it remains exciting," says Mathias Lang, head of tool making department.
Integrated automatic spray systems: Attempts are currently being made to incorporate an oil spray system into the mold. The aim is to avoid cracks in very thin films and complicated shapes. The foil is sprayed with oil before pressing to improve the sliding of the film on the die.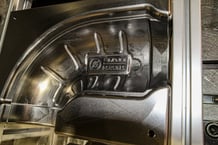 Micromilling: Optimization of the milling process and cooperation with our CAM software supplier made it possible to introduce this new process. Very filigree contours, company logos, symbols, warning signs, etc. can be introduced into the tool using micro-milling.
Categories
Temperatures under control.
Discover the world of insulation and how tmax, as a market leader, will also solve your requirements.