Why you absolutely need turbocharger insulation
With the right insulation, the turbocharger works even more efficiently and is generally better protected against failures of all kinds.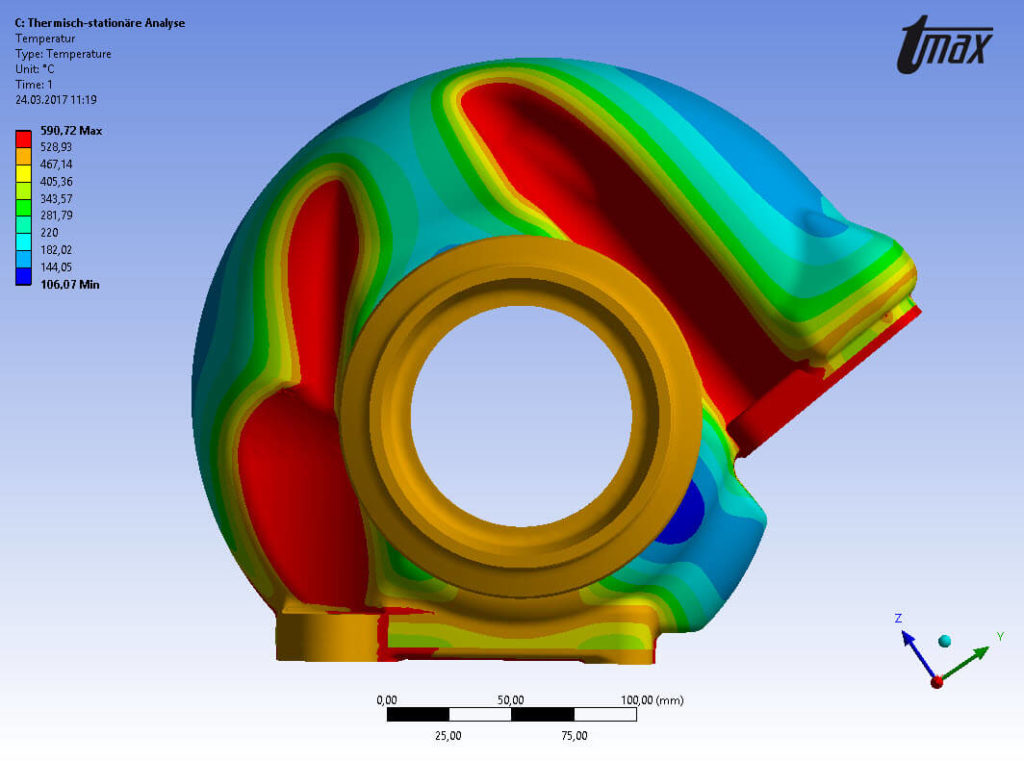 The turbocharger, also called exhaust gas turbocharger, compresses the combustion air supplied to the engine, ensures more efficient combustion and thus more power with the same fuel consumption. Turbocharger insulation ensures even greater efficiency by enhancing this effect, while also bringing other benefits in terms of greater occupational safety, fire protection and improved emission levels. Learn all about turbocharger insulation and why you absolutely need it here.
The operation of a turbocharger
The principle of the exhaust gas turbocharger is simple: a turbine wheel and a compressor wheel rotate on a common shaft, each of which is enclosed by a housing. The turbine uses the energy of the exhaust gases and drives the shaft. The compressor thus draws in ambient air, compresses it, and then forces it into the cylinders. With the additional air volume, more oxygen is available for more efficient combustion.
As a result, the engine's performance increases while fuel consumption remains the same, and better emission values can be achieved.
Why should you insulate the turbocharger?
A good turbocharger insulation makes all the difference. But how so?
If the right high-temperature insulation sits on your turbocharger, it will help make the processes in the exhaust gas turbocharger even more efficient. It ensures that optimum temperatures are maintained in the system and efficiency is increased. Apart from this, turbocharger insulation brings many other advantages.
It is not uncommon for the exhaust gas side of the turbocharger to reach temperatures of up to 1,000 °C. Wherever extremely hot surfaces are present, there is a high risk of fire in the event of contact with highly flammable liquids or deposits. In addition, there is the high radiant heat emanating from the hot surface of the turbine housing, which can easily damage surrounding components.
With the insulation of the turbocharger, all these risks can be minimized. The insulation encapsulates the turbocharger and provides both reliable protection for man and machine from fire hazards and efficient shielding of the surrounding components from heat radiation. This not only increases the safety and service life of the overall system, but also boosts the efficiency of the turbocharger.
Features of turbocharger insulation
With the right high-temperature insulation, the turbocharger works even more efficiently, achieves better emission levels and is generally better protected against fire and failures of other kinds.
These are the properties of a good turbocharger insulation:
Increasing the efficiency

Effective fire protection

Effective burst and explosion protection

Optimal personnel and contact protection

Improved reliability

Better emission levels

Efficient sound insulation

Extended life
What should you pay attention to when insulating the turbocharger?
To ensure optimum engine operation and turbocharger efficiency, a number of things must be taken into account when designing a turbocharger insulation system.
For example, it has to be ensured that the interface issues between the exhaust pipe cladding, the turbocharger and the onward exhaust line are also taken into account. Since there is different vibration behavior in the different areas, rigid high-temperature insulation would quickly suffer damage at the interfaces. Ideally, turbocharger insulation with a flexible interface solution not only manages to provide optimum insulation, but also compensates for vibrations and thermal expansion.
Furthermore, especially in the case of turbochargers in the medium to large engine segment, accessibility, and ease of maintenance should be ensured so that service personnel can quickly and easily reach the points requiring maintenance.
When does turbocharger insulation make sense?
In short: always.
Any engine, vehicle or machine, with a turbocharger, can benefit from turbocharger insulation. Regardless of industry, size or application, the benefits of high-temperature insulation on the exhaust gas turbocharger are undeniable.
Turbocharger insulation for automotive and on-highway vehicles
In the automotive and on-highway sector insulation of the turbocharger makes sense, especially in regard to increasing efficiency, improving emission values and meeting exhaust gas standards. As the engine compartment becomes ever more cramped and the number of temperature-sensitive components steadily increases, effective shielding of the hot surfaces of the turbocharger are imperative. Here, it is crucial that the insulation is built as space-saving and light as possible, and adapts to the installation situation. Therefore, for turbochargers in this area, mainly direct insulation made of stainless-steel foil, or alternatively Textile insulations, used.
Turbocharger insulation for agricultural and off-highway vehicles
Effective fire protection often plays a central role, especially in the off-highway sector. Turbocharger insulation prevents highly combustible materials and deposits from coming into contact with the hot surfaces of the turbocharger, which would otherwise quickly cause a fire on the machine. Metallic insulating cladding is particularly suitable for this purpose, reducing all surfaces to a non-hazardous 200 °C and providing additional burst protection. In the event of a turbine bursting inside the insulation, the cladding protects against damage caused by metal splinters flying at extremely high speed.
Turbocharger insulation for marine and industry
For Marine, Power Generation, and Oil & Gas, it is also worthwhile to install a metallic insulation cladding on the turbocharger for the reasons listed above. An additional requirement for all marine applications is compliance with SOLAS requirements.
The UN Convention Safety of Life at Sea, or SOLAS for short, makes specifications that enable safe operation of all marine engines and applications at sea. The core requirement is that no surface of an exposed component may exceed the temperature of 220 °C, as many fuels and operating fluids can ignite at temperatures as low as 250 °C.
A comparable function is also provided by textile insulation, which is considered the best alternative to metallic turbocharger insulation. In addition to meeting SOLAS requirements, this likewise offers nearly stepless twistability, reduced assembly time, less additional weight, and lower development costs.
Types of turbocharger insulation
To insulate the turbocharger perfectly, there are various solutions made of different insulation and insulating materials, depending on the application. This depends entirely on the turbocharger, its size and installation situation, as well as the area of application of the vehicle or machine. In many cases, a combination of two or more insulation types can also provide perfect insulation protection.
The types of high-temperature insulation for turbochargers can be divided into three categories: metallic, foil and textile.
Metal turbocharger insulation
High insulation value

High durability

Easy assembly

Ease of maintenance
Foil turbocharger insulation
Accurate fit, for complex shapes

Light weight and space saving

Optional: water repellent insulation material

Optional: Reinforced sound insulation
Textile turbocharger insulation
Perfect touch protection

Quick assembly and disassembly

Short development times

Low tool load

Individual and custom-fit fabrication

Effective sound insulation
Categories
Temperatures under control.
Discover the world of insulation and how tmax, as a market leader, will also solve your requirements.